One dead and two seriously injured were the tragic stories of a traffic accident in Italy that shocked public opinion.
Speeding kills and the shocking accident that occurred in neighboring Italy that shocked the public is the best proof of what can happen when a sports car with its capabilities Audi R8 falls into the wrong hands.
The accident occurred on the regional highway of Rome with negative protagonist 22-year-old driver of a white Audi R8.
The driver of the German sports car appears to be having fun carrying out dangerous maneuvers at prohibitive speeds. At the same time, in fact, his passenger records with his mobile phone what is happening.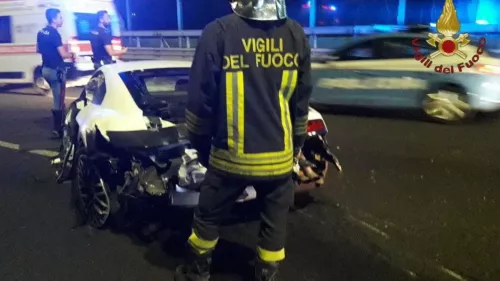 A few seconds before the fatal accident, the video recorded by the passenger shows the digital speedometer of the Audi R8, which reaches 300 km / h.
What follows is truly shocking as the driver appears to lose control of the vehicle and hit the railings.
From the violent collision, the driver of the 21-year-old white Audi R8 will lose his life and the passenger will be seriously injured. A pregnant woman involved in the crash was taken to hospital with serious injuries..
The news of the accident and the video that testifies to its causes provoked strong reactions in Italy, since the criminal behavior of the driver of the white Audi R8 almost proves fatal to the other drivers who had the misfortune to get in his way.
source: car and motor