Deputy Minister of Culture Nikolas Giatromanolakis attended the presentation of the Ukrainian book collection at the National Library of Greece
Specifically, on Thursday, September 22, in the presence of the Deputy Minister of Culture and Sports, responsible for contemporary culture, Nikolas Giatromanolakis, the Ambassador of Ukraine in Athens, Sergii Shutenko, the President of the EBE Electoral Council, Stavros Zoumboulaks and the Director EBE General Philippos Tsiboglou handed over to the National Library of Greece a small collection of literary books of various contents written in the Ukrainian language.
Books in the Ukrainian language at EBE
The collection will be exhibited for a month in the Open Reading Room area on the second floor of the EBE central building at the Stavros Niarchos Foundation Cultural Center.
The action builds on an initiative by the First Lady of Ukraine Olena Zelenska for the promotion of Ukrainian letters, which had started before the Russian invasion of Ukraine, while it is another gesture to confirm the friendly ties between Greece and the wintering Ukraine.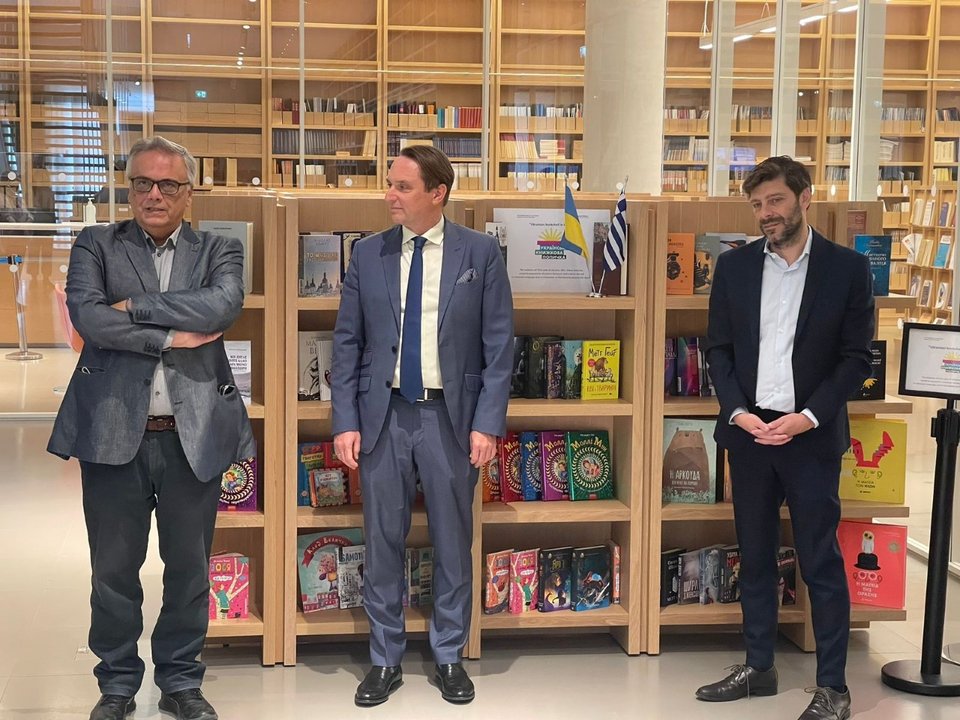 "The Ministry of Culture and Sports, from the first day of the Russian invasion, has developed a series of actions in cooperation with the Ukrainian embassy: From the organization of visits by refugee children to our museums to concerts by organizations supervised by the Ministry of Foreign Relations in favor of Ukraine, and from the promotion of films and documentaries to the celebration of the Odessa Classics Festival in Thessaloniki Today, a few hours after the Russian president's announcement of partial mobilization, another cultural action is taking place, with the assistance of the National Library of Greece. The Ministry of Culture and Sports will continue to highlight various aspects of Ukrainian culture and will resist making this war, 211 days after its start, part of normalcy."
source: iefi merida