In the last few hours, Christos Vassilopoulos, who published an unpaid job advertisement, has caused intense reactions, causing a stir.
In particular, the actor posted on his personal social media account an announcement asking acting students to submit their resumes. In that publication, he said that those selected will not be paid, but "the production will save all the resumes of the participants for future collaborations."
The post read: "Students/Actors 25-70 years old wanted to help with filming or to participate (either in a role or supporting role) in a new project filming in Attica. Please send your resumes and photos via email […] until September 24. There will be no payment, but the production will save the resumes of all the participants for future collaborations. This particular project is huge and the actors who will be involved will be working directly with the director and the lead (Christos Vassilopoulos) gaining a lot of experience."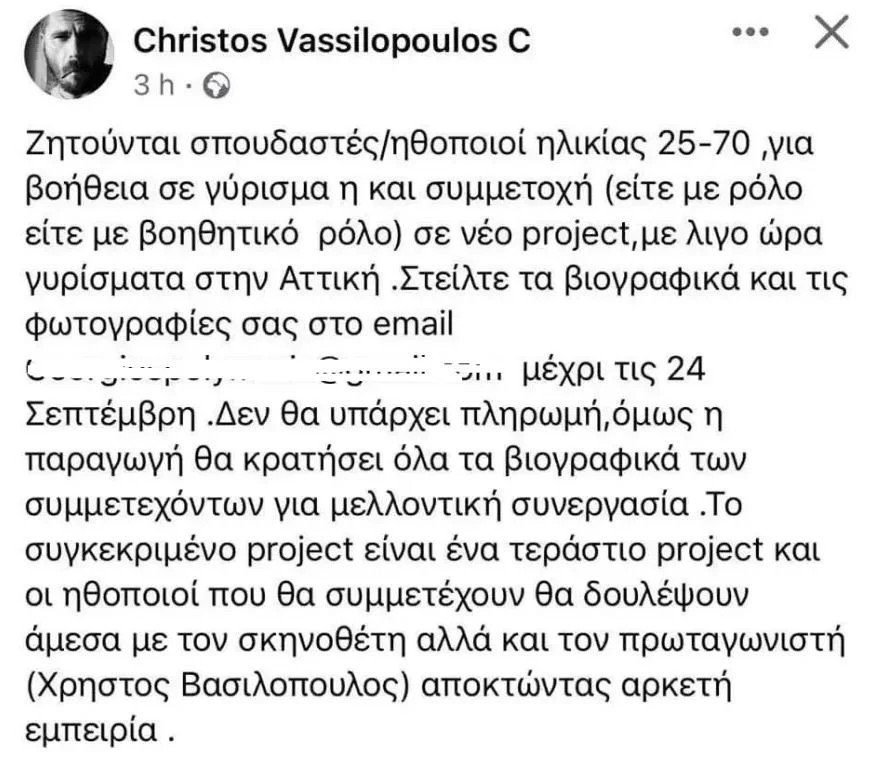 Spyros Bibila's reaction: "Never work without money"
The comments immediately caught fire as among those who took a stand was the SEH president, Spyros Bibilas, who emphasized that no one should work without pay.
Spyros Bibilas wrote: "Colleagues. Never work without money just to get on a stage or in front of a camera. It is the most uncooperative thing you can do. Even if you have money from another source, do not agree to take a cart from a program, a movie or a series on your back. Do not accept such humiliation. Act like a professional. Theater, cinema, television, are different professions than dreams. You will have to live according to them, do not forget. Many of us have done this repeatedly and we have paid dearly for it. Do not repeat decades of mistakes. Respect yourself so that everyone will respect you. (Of course I do not mean small theater groups that equally share the profits derived from their performances)" .
Christos Vassilopoulos' answer,
After the negative comments he received, which are a reason for labor exploitation, Christos Vassilopoulos responded on Facebook: "Let me inform you that your mouth is dripping with a medicine that neither I nor anyone from the direction and production team are going to pay for. We do not force anyone to participate and we have it clear from the beginning. So I don't understand where the shame is and where the guilt is. Likewise, those who will participate in the filming will have the opportunity to meet the director. I don't think it's necessary to mention that even today, when I send my auditions to directors, consuming time and money, I also don't get paid."

Then he replied: "No one should work or rehearse tamba, or work tamba on a regular set of a series or in the theater. So here we are talking about a small press session, an hour, an hour and a half, in which the actor-student will have the opportunity to show what he can do to the director. I honestly don't understand what all this cannibalism is for. I didn't make this post with the intention of exploiting anyone, just like that. I think whoever comes will be given the opportunity to develop. I am sincerely sorry to see comments from young colleagues, as well as from more experienced ones, full of bile and negativity. I feel sorry for the culture and cannibalism of Greece. I think if a director or casting director had posted this particular post, all those stolen actors who made a summer hit and told the lengths and the short of it would run to drop off a resume. If I tell you how many hours I have worked hard and I still work hard at this job, you will cry. We are not doing an office job where you have an employer. When I send my audition to so-and-so for the director, I have also invested my time. But nobody guarantees me that I will close the job. So what should I say? Ahhh, no, you're going to pay me for the time I spent auditioning, or I won't. Wake up, then, wake up!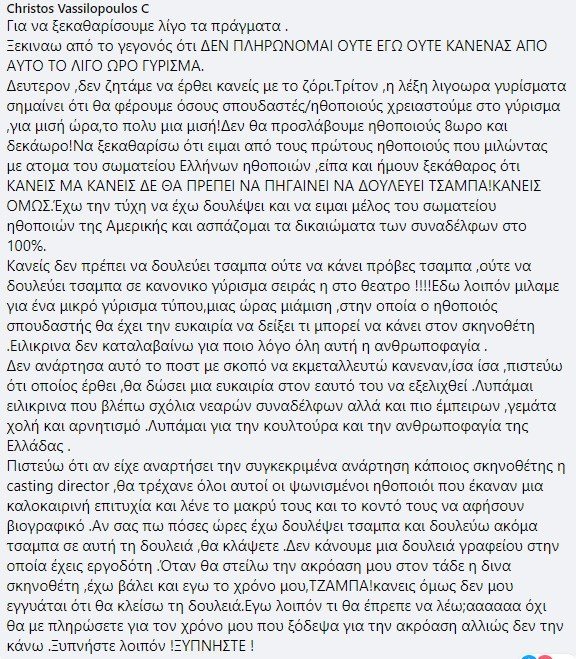 After the outcry, Christos Vassilopoulos deleted the post and in a new post on Friday morning said he never downloaded it from his personal account, but… closed it when the casting was complete.
"The casting that I posted on Facebook about a future project has closed and we are covered. The post is still there, it was not deleted, it was just closed due to a large number of actors. We thank you all very much and especially the journalists for your positive energy, knowing very well the work of the actors from the inside", wrote Christos Vasilopoulos.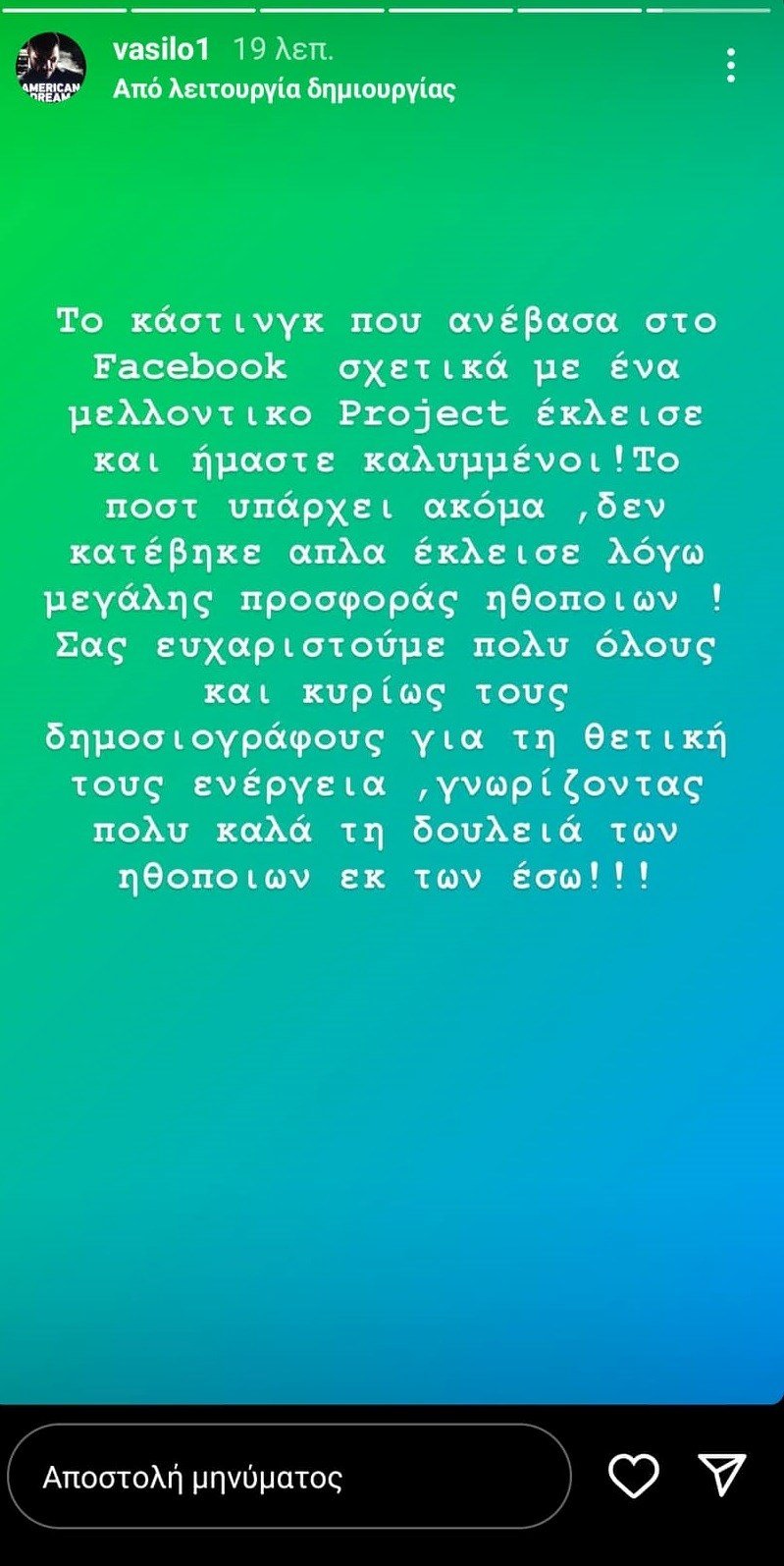 source: iefi merida